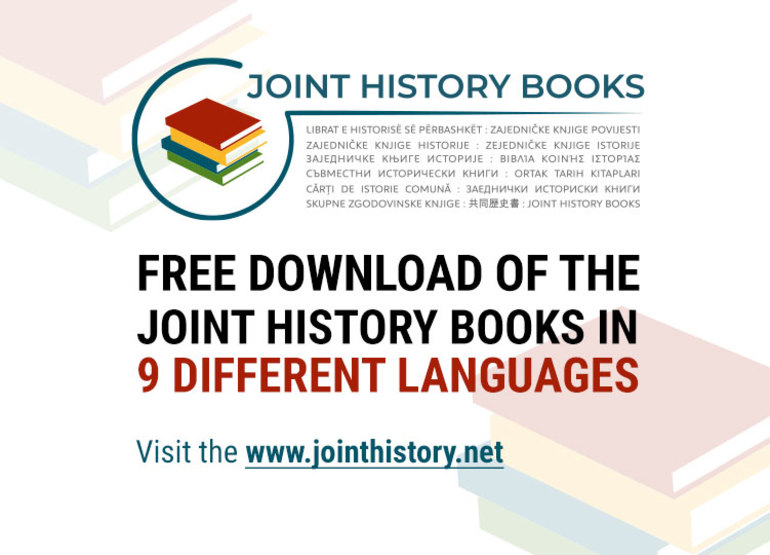 The Joint History Books of 13 countries from Southeast Europe is a unique collection of historical sources jointly compiled between 1998 and 2016 by more than 100 historians and 300 teachers from Albania, Bosnia and Hercegovina, Bulgaria, Croatia, Cyprus, Greece, Kosovo, Montenegro, Romania, North Macedonia, Slovenia, Serbia, and Turkey.
Their main goal is to show that every story has multiple points of view, to support critical thinking and help develop an understanding of how history is made. Nothing is taboo in the Joint History Books – they include everything from the political face of dictatorship and repression, to the crises of the 70s and 80s, and the disintegration of Yugoslavia.
These books have no expiration date – honoring the initial idea of their creation within the Joint History Books project, they are now again accessible online at a new digital home – the www.jointhistory.net homepage, which offers free downloads in 9 languages.
"These books were the central programme of the Center for Democracy and Reconciliation in Southeast Europe (CDRSEE), a regional and impact-oriented NGO based in Thessaloniki that sought to foster democratic, pluralist, and peaceful societies in Southeast Europe. Joint History Books represented a new era of re-examining history, the baggage of prejudice, and the lack of empathy and understanding. By making these textbooks available again, I hope the ministries will re-express their interest and recommend their use in schools", says Zvezdana Kovač, former CDRSEE Executive Director.
Initiated by the European Fund for the Balkans (EFB), which supported the creation and maintenance of the new website, the textbooks are now again available to the public.
"The EFB understands that these books are an important tool not only for history teaching, but also for opening a culture of dialogue and different ways of thinking. Joint History Books can be a way out of a predominantly one-dimensional education system in the Southeast Europe region and they have the potential to encourage exchange on different perspectives and experiences", Aleksandra Tomanić, Executive Director of the European Fund for the Balkans, said.
Joint History Books, having generated considerable international interest over the years, will continue to serve as a comparative information source for students, teachers, and all other interested parties from all corners of Southeast Europe and beyond. The European Fund for the Balkans is honored and pleased to be able to make them available again, by supporting the establishment of an online library which offers open and free download.