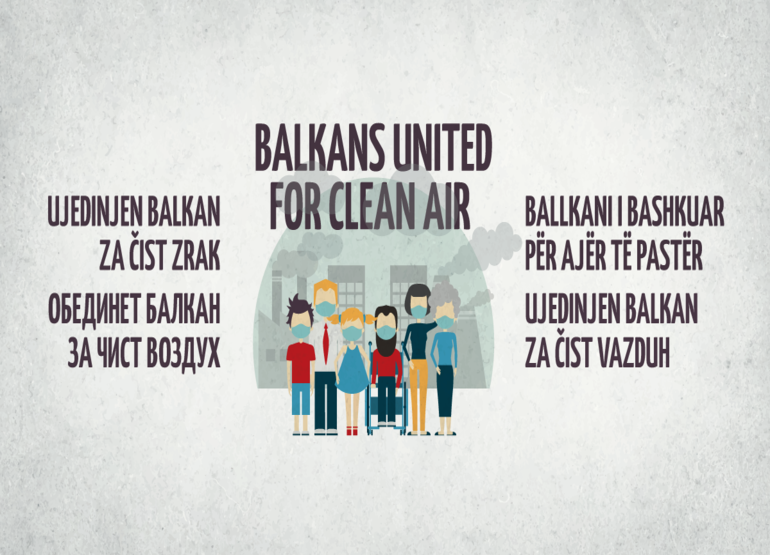 COAL-FIRED THERMAL POWER PLANTS TO BE SHUT DOWN AS SOON AS POSSIBLE, CITIZENS TO PARTICIPATE IN THE DECISION-MAKING
Our "Balkans United for Clean Air" regional campaign will take place for the second year in a row, starting today on December 1st, with the aim of raising awareness of the region's citizens about the causes and consequences of pollution, possible ways to improve air quality and the fight for a healthier environment through regional solidarity.
This year, the campaign will focus on, inter alia, the consequences and harm of pollution caused by coal-fired power plants, as well as pollution originating from heavy industry.
"Balkans United for Clean Air" is implemented by the European Fund for the Balkans, supported by numerous organizations: Eko Forum from Zenica, Environmental Territorial Management Institute from Tirana, Sbunker and Balkan Green Foundation from Pristina, Air Care from Skopje, OZON from Podgorica, Renewables and Environmental Regulatory Institute and Belgrade Open School from Belgrade.
The participants in the "Balkans United for Clean Air" information campaign are advocating a rapid shutdown of coal-fired power plants and the urgent compliance of pollution from heavy industry with the proper regulatory framework. We also demand that citizens get a seat at the table when deciding on environmental permits and other documents regarding production plants.
Coal combustion is the largest single source of air pollution in the Western Balkans, with thermal power plants playing a major role. The "Ugljevik" thermal power plant itself emits more sulfur dioxide (107,402 tons in 2020) than the total permitted emissions of all plants covered by national emission reduction plans (103,682 tons). Hence, this plant alone exceeded all total annual values combined.
EU imports of electricity produced from the Western Balkans account for 0.3 percent of EU consumption, but sulfur dioxide emissions from this production account for 50 percent of its emissions from all EU thermal power plants.
Apart from industry, coal is also consumed in households and heating plants; the cessation of the use of this fossil fuel would eliminate the main single source of air pollution in the Western Balkans.
The loss of gross domestic product due to air pollution in the Western Balkans in 2016 alone amounted to 8.5 billion euros. Instead of building and renovating thermal power plants, funds from the budget could be directed to social programs and retraining of workers, as well as the construction of solar power plants on the site of coal mines that would replace the electricity production capacities that are being shut down. That way, the transformation of the industry could be the greenest on the continent.
Through a solidarity-based struggle, the citizens of the Western Balkans can work together to achieve cleaner technologies and a healthier future. Become part of the "Balkans United for Clean Air" campaign, because only by joining forces we can improve air quality in the Western Balkans, and polluted air knows no borders, religion, nation, sex, or age. If you want to join us, fill out your contact details via one of the following links:
Serbia: http://bit.ly/UjedinjeniBalkan
Bosnia and Herzegovina: http://bit.ly/UjedinjenBalkan
Montenegro: http://bit.ly/UjedinjenBalkanZaCistVazduh
North Macedonia: http://bit.ly/ObedinetBalkan
Albania: http://bit.ly/BallkaniiBashkuarALB
Kosovo: http://bit.ly/BallkaniiBashkuarKS
ENG: http://bit.ly/BalkansUnited