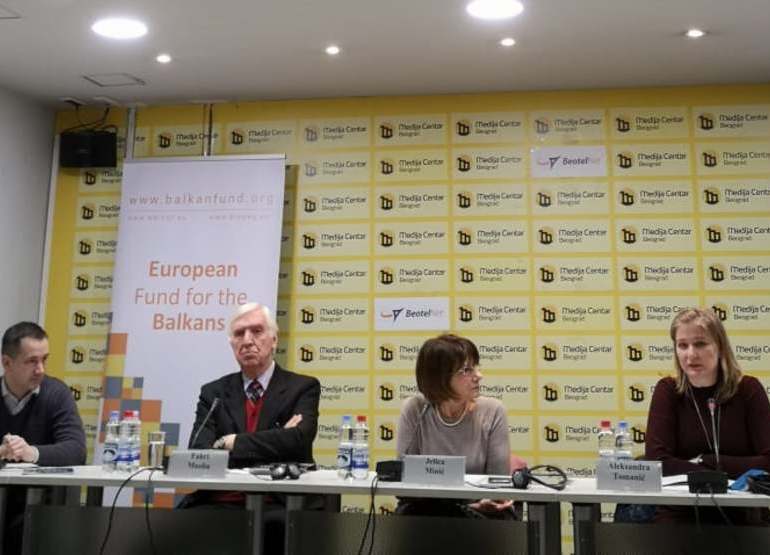 The promotion of the book "When the Serbs and the Albanians Loved Each Other" was held on Friday, January 31, 2020 at the Media Center in Belgrade. The event was organized by the European Movement in Serbia, and the European Fund for the Balkans supported the publishing of the book in 25 000 copies in Serbian and Albanian as an addition to the daily newspapers Danas and Koha Ditore. Jelica Minic, Vice President of the European Movement in Serbia, who was part of the whole process of envisioning and producing of the book, pointed out that she believes that this project can be perceived as a sparkle of hope and positive energy now when there are so many tensions around the Belgrade-Pristina dialogue. The Executive Director of the Fund, Aleksandra Tomanic presented her opening remarks by sending a message that the book is an authentic reflexion of the narrative that should be put on the forefront and serve as an example of the values that we all share and the relations that we should not forget to nurture.
She thanked the European Movement in Serbia for including the Fund in this initiative, which deserves all the words of praise since a book like this which celebrates the love and friendship finally infuses some normality against the generally negative political discourse.
During the promotion, Aleksandar Pavlovic, Fahri Musliu and Srdjan Atanasovski as authors of three of the 10 stories which are presented in this book, shared their personal views of their storytelling experience, the gathering of facts and the different aspects of the shared cultural, historical and religious past and present. The book "How Serbs and Albanians Loved" was created as part of one of the project's activities (Towards a Serb-Albanian Friendship Policy). The aim of this short book was to revive some of those many beautiful stories of love and friendship between the Serbs and Albanians from ancient times to the present. Throughout the history, the Albanians and Serbs have mostly lived together in peace, side by side and close to each other. Therefore, contrary to the current opinion on the centuries-old hostility between the Serbs and Albanians, the documentary sources and the diverse writings from the past indicate that Serbs and Albanians viewed each other mostly as friends from the earliest times. The book was published on December 28, 2019, in addition to the daily Danas. The Albanian version will be available as an addition to the daily newspaper "Koha Ditore" in Kosovo on February 2, 2020. *The promotion of the book was organized under the project "Democratization and Reconciliation in the Western Balkans" implemented by the European Movement in Serbia, New York University of Tirana (Albania), Institute for Central and Eastern Europe (Italy), University of Dubrovnik (Croatia) and the School for Science and Technology of the University of Sarajevo (Bosnia and Herzegovina), with the support of the European Commission (a grant to support Jean Monnet's activities under the Erasmus + program).