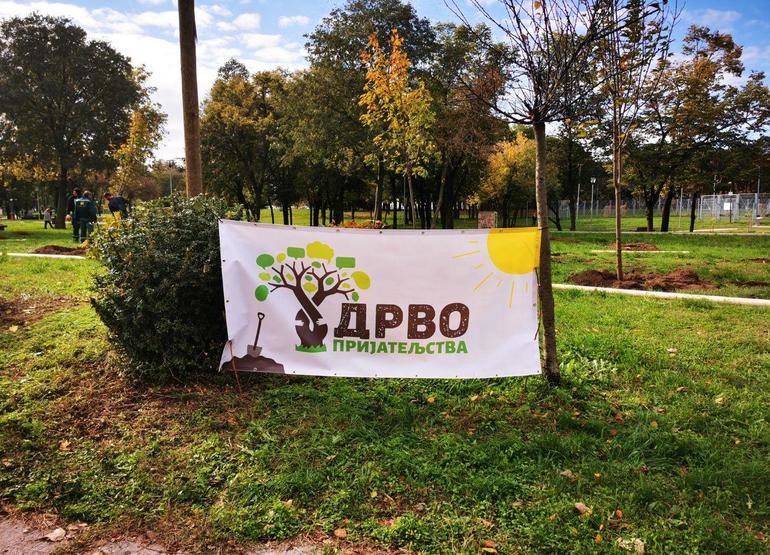 With regard to the attempt of politicizing the European Fund for the Balkans' regional initiative "Friendship Trees" and the false information according to which the EFB had paid funds to the local public enterprise in charge of maintaining the city greenery JKP "Zelenilo" (Greenery Belgrade) on behalf of a third party, we wanted to once again emphasize the motive behind today's regional planting action.
The tree planting involves a donation of a total of 400 tree trunks to all capitals in the region. The idea behind this action is to compensate the damage caused by CO2 emissions that occurred as a result of EFB's business flights during 2019. It aims to show that, by taking individual responsibility, one can make a difference at a local and regional level.
This activity is part of EFB's regional project and it entailed simultaneous tree planting which took place on October 30 in Belgrade, as well as in Skopje, Pristina, Tirana, Podgorica and Sarajevo, with volunteer and logistical support provided by numerous local partners. Representatives of Šuma peva (The Forest Sings), Ulice za bicikliste (Streets for Cyclists) and Ne da(vi)mo Beograd (Don't Let Belgrade D(r)own) joined the action on "home turf". In the other cities across the Western Balkans, trees were planted with the help and logistics from Za čisto i lijepo Sarajevo (For Clean and Pretty Sarajevo) from Sarajevo, Environmental Territorial Management Institute from Tirana, Sbunker from Pristina, Skopje Smog Alarm, Air Care and Treebank from Skopje, and OZON from Podgorica.
In all the capitals of the region, the planting action was carried out with our local partners and the competent public enterprises in charge of the greenery, so as to ensure sustainability and institutional care for the trees in the future. That was the case in Belgrade as well, where 30 out of a total of 100 trees which will be donated to the city by EFB were planted, in cooperation with the public enterprise in charge of the city greenery "Greenery" – Belgrade (JKP "Zelenilo"),. The planting of the remaining 70 trees is scheduled for late November at a location which will be determined in coordination with the representatives of this public enterprise.
During this regional action, all prescribed protective measures in response toCovid-19 were observed. Our responsibility with regard to potential risks has prevented us from involving citizens in the implementation of the action, as it was originally planned.
Read the reaction in Serbian

Aleksandra Tomanić, Executive Director of the European Fund for the Balkans