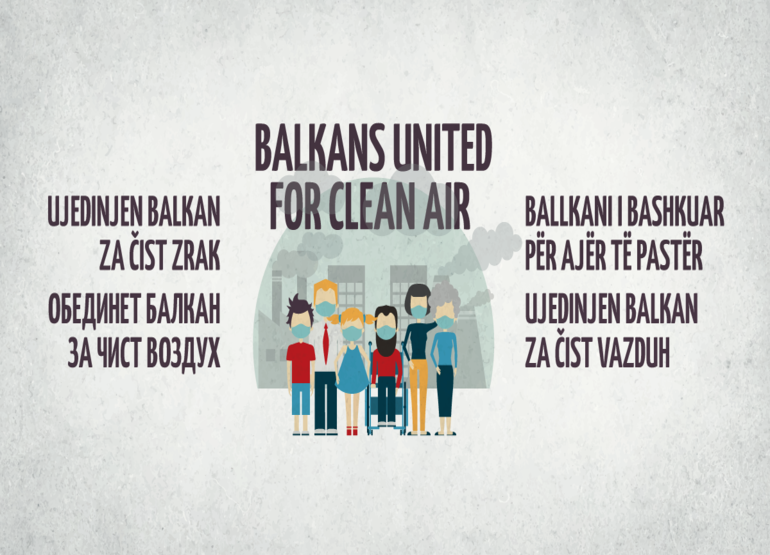 Emissions of pollutants from large power plants in most Western Balkan countries exceed the prescribed limit values, and coal‐fired power plants, according to the latest data, emit more sulfur dioxide than all such plants in the EU combined. Globally speaking, coal is becoming a thing of the past and today it is more cost‐effective to build solar power plants and wind farms than to maintain existing thermal power plants. Companies that produce and use coal face increasing costs for licenses to emit carbon dioxide and complying with environmental regulations, so they are accelerating their plans to shut down or at least switch to other fuels.
While investors in the wider region are canceling their plans to build new power plants, shutting down or announcing the shutdown of dozens of existing ones, Serbia and Bosnia and Herzegovina continue to prioritize their plans to build new thermal power plants.
The Western Balkans has the worst air quality in Europe – air pollution causes more than 30,000 premature deaths in the region every year. The use of fossil fuels in industry, household heating boilers, agriculture and transportation also has great health consequences.
The entire Western Balkans is equally endangered, especially during the heating season, when we can often see and sense this common enemy. It is high time that we all join the fight against air pollution in our region.
It is estimated that 4,000 people die prematurely every year from exposure to air pollution in Albania, 5,900 in BiH, 900 in Montenegro, 3,400 in North Macedonia, 2,800 in Kosovo and 11,400 in Serbia. Between 80 and 90 percent of these deaths are caused by cardiovascular diseases (stroke and heart disease). The majority of the deceased, between 50 and 70 percent, whose deaths can be attributed to poor air quality, are people of working age.
A study published by HEAL, Sandbag, CAN Europe, CEE Bankwatch and Europe Beyond Coal showed that in 2016, there were 3,906 premature deaths due to air pollution from coal‐fired power plants in the Western Balkans, most of which occurred outside the region, in European Union member states.
According to the results of the research by the United Nations Environment Program (UNEP) in 2019, in 19 larger cities1 alone, not including Kosovo, almost 5,000 people die prematurely from direct exposure to polluted air every year.

Countries do not provide aggregate data on the economic consequences of air pollution
Public finances are under pressure, mostly due to the costs of treatment and years of life lost; however, the budget's expenditure side does not reflect this in a consolidated fashion.
It is stated in the study that coal‐fired power plants in the Western Balkans are responsible for economic damage in form of health costs amounting to between €6.1 and €11.5 billion a year, more than half of which is borne by the EU. Almost a third of the costs occur in the Western Balkans, and the consequences are felt even in Russia and Egypt. The money lost this way in a year or two in our region would be enough to build solar power plants that would replace almost all coal‐fired power plants.
We should also bear in mind that dangerous airborne substances and compounds stimulate climate change and that we will face a huge bill in that regard, too, in the form of floods, droughts and epidemics.
Particulate matter is the biggest killer out of all airborne pollutants
Coal‐fired power plants and the industry are among the main sources of sulfur dioxide emissions in the Western Balkans; nitrogen oxides mostly stem from coal‐fired power plants and transportation. In most countries in the region, emissions of SO2, NOx and particulate matter from large plants exceed the limit values set by national emission reduction plans.
Levels of PM10, SO2, O3 and NO2 are exceeded in Bosnia and Hercegovina. Concentrations of PM10, NO2 and O3 in Serbia and North Macedonia often exceed the maximum allowable values. The population of Albania is highly exposed to nitrogen dioxide and ozone. There are no coal‐fired power plants in that country.
Out of the 37 countries reporting to the European Environment Agency, eight exceeded the maximum recommended level of PM2.5 exposure in 2018. Five of them are in the Western Balkans (all Western Balkan countries except Montenegro, for which no data were available). The daily limit value of PM10 in Western Balkan cities was exceeded 120 to 180 days a year, with the prescribed limit being 35 days a year.
Citizens of Albania, Bosnia and Herzegovina, Montenegro, Kosovo, Serbia and North Macedonia suffer due to pollutants stemming from power plants, heating plants and factories that use coal and oil products. The air is poisoned by fossil fuel processing plants and obsolete household heating boilers.
Construction and agricultural activities and traffic also cause serious pollution.
Apart from the fact that health and the environment are endangered by fires in unregulated landfills, in recent years a part of the population has been increasingly using plastic, rubber and discarded varnished and painted wood as fuel for household stoves. This is not necessarily the result of ignorance, but a reflection of poverty, in this case energy poverty. On top of that, we are generating an increasing amount of waste and the system has no adequate answer for that, or for other issues concerning air quality.
Pressure and joint action towards clean air
Institutions are accountable to citizens. The Balkans United for Clean Air campaign is part of the solidarity‐minded and joint struggle by inhabitants of every street, neighborhood, village and city in the Western Balkans to be able to breathe clean air. Globally speaking, coal is becoming a bad memory.
It is already more cost‐effective to build solar power plants and wind farms than to maintain most of the existing thermal power plants, even the newer ones. Equipment for the production of energy from renewable sources is becoming drastically cheaper. Companies producing and using coal face increasing costs in terms of carbon emissions permits and compliance with environmental regulations. Therefore, they are accelerating their plans to shut down or at least to switch to other fuels.
Sixteen coal‐fired power plants in the Western Balkans emitted more sulfur dioxide in 2016 than all 250 in the EU combined
According to data from the aforementioned 2016 report published by HEAL and other organizations, sixteen coal‐fired thermal power plants in the Western Balkans (still their number to date), emitted more sulfur dioxide (SO2) than all 250 operating in the European Union combined. According to data gathered by Europe Beyond Coal, in the meantime there are only 219 remaining active coal‐fired power plants over the capacity of 15 megawatts in the EU and the UK. In the wider region, which includes Turkey, investors last year alone canceled plans to build nine, shutting down or announcing the shutdown of another 68 power plants.
It is almost certain that several remaining projects will be stopped, and the question is what will happen to those already under construction. Almost half of EU members intend to completely phase out coal within the next ten years, and this number could easily increase. There are similar tendencies in Japan, China and the United States. Meanwhile, Serbia and Bosnia and Herzegovina continue to push their plans to build new thermal power plants.
Public money should not be spent on financing the dirty coal industry
In one way or another, countries in the region spend enormous amounts of taxpayers' money for coal mines and the construction, maintenance and reconstruction of thermal power plants. Since this sector is losing the market battle with renewable energy sources, it cannot survive without subsidies, and those funds can certainly be used better.
The system of pollution measuring stations still often fails to meet all the necessary criteria. Here, too, there is room for citizens' engagement. Numerous small household air quality measuring devices are networked through popular mobile applications and become a tool that can control government data on air pollution, which at times is unreliable.
In North Macedonia, there are already incentives to replace fossil fuel heating boilers in households with cleaner solutions, which other countries in the region could emulate. Elsewhere in the Western Balkans, there have been modest developments, especially with regard to heating plants using renewable energy sources. Biomass plants are emerging in Serbia and Bosnia and Hercegovina, and geothermal pumps are being increasingly used in the region to heat and cool facilities.
The Balkans can implement energy transition only through joint efforts
Phasing out coal is the most important step towards improving air quality
Countries in the region need to be aware of the fact that there is no future with outdated thermal power plants and that the only choice is an accelerated transition to solar and wind energy. The functioning of such a system, which is dependent on weather conditions, requires the interconnection of the Western Balkan countries' power grids and the construction of electricity storage facilities. These are the most important measures to reduce air pollution. However, serious progress also calls for tighter air quality standards and improved regulations on polluters, and their strict application in the case of state‐owned thermal power plants, but also those in private ownership.
All six countries in our region signed the Sofia Declaration in November 2020, thus accepting the Green Agenda for the Western Balkans and pledging to follow the EU's policy and its European green plan which envisages achieving climate neutrality by 2050. Regional cooperation is a path towards improving air quality, but it can also lead to technological progress and improved economic competitiveness, with the possibility of raising and surpassing the ambitions and goals stated in the document.
The Green Agenda for the region implies regulating the cross‐border impact of air pollution, adopting strategies to improve air quality and building the capacities of the measurement systems. EU leaders have indicated that access to grants and cheap loans will not be possible if the goals are not met.
It should be made easier for citizens to install devices for the production of energy from renewable sources in their households. Furthermore, energy efficiency projects in the field of building design and construction, as well as incentives and subsidies, can significantly reduce fuel consumption.
---
1 Korča, Banjaluka, Brod, Prijedor, Sarajevo, Tuzla, Zenica, Bar, Nikšić, Pljevlja, Podgorica, Tivat, Bitolj, Skopje, Tetovo, Belgrade, Pančevo, Užice and Valjevo.
Read the text in all the WB6 languages:
Albania
Bosnia and Herzegovina
Kosovo
Montenegro
North Macedonia
Serbia