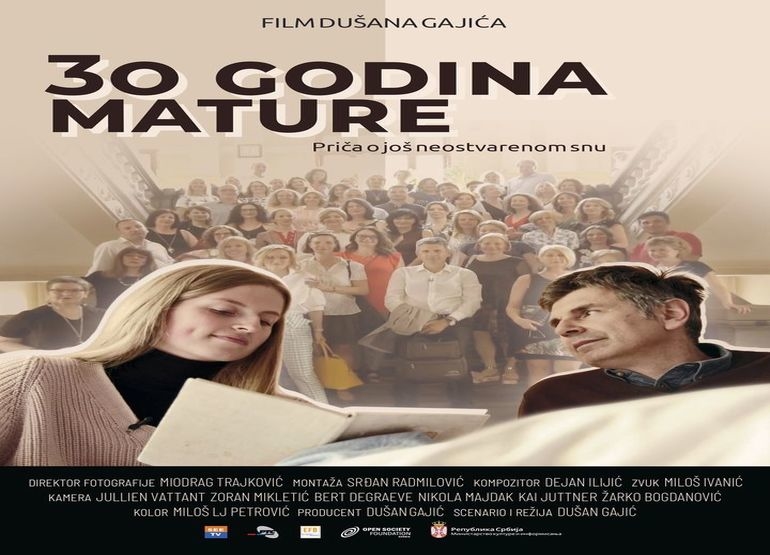 "The Graduates", a documentary by Dusan Gajic, which was produced with the support by the European Fund for the Balkans, will have its premiere on Friday, March 18th at 20.00 at the Cultural Centre of Belgrade.
The film explores what has happened to Serbia and Europe in the last thirty years and where history could take them further.
Through personal stories of the 1989's school graduates from Belgrade the author re-examines the recent history of his country through conversations with his peers and his daughter who was born and is growing up in Brussels. From private photographs, personal memories and recollections, the film seeks to understand the true, human meaning of the turbulent, often dramatic history of the last 30 years.
As 1989's graduates reunite at a Belgrade high school after thirty years, one question hangs in the air: What's left of the generational dreams?
The participants in the film state that the Serbian society is still preoccupied with similar issues as in 1989: there is still no reliable and unambiguous answer to some of the key questions: What about democracy and a multi-party system? What about Kosovo? With the region? What about Europe? What do we want to be?
At the time of the graduation anniversary, the film asks a simple question:
Has the Serbian society passed its own "maturity exam" in the past thirty years?
The film features former schoolmates of the author Dušan Gajić, journalists, doctors, artists, musicians… Svetozar Putnik, Ljubica Gojgić, Miloš Šaranović, Vesna Pavlović, Dina Divljan, Bojan Trkulja, Aleksandar Đorđević, Dejan Milićević, Milorad Miki Ristić, Katarina Knežević, Dušan Korać, Danijela Kambasković, Ljubica Tomić and others, as well as their children Radmilo Tomić, Pavle and Stevan Divljan, Uglješa Šaranović. The director of photography is Miodrag Trajković, the editor is Srdjan Radmilović, the music was composed by Dejan Ilijić.
The film "The Graduates" was shot in Belgrade, Brussels, The Hague and Vienna. The production was supported by the European Fund for the Balkans, the Open Society Foundation and the Ministry of Culture and Information of Serbia.
Watch the trailer: https://vimeo.com/686371240
More info at https://www.facebook.com/events/2799231023714022