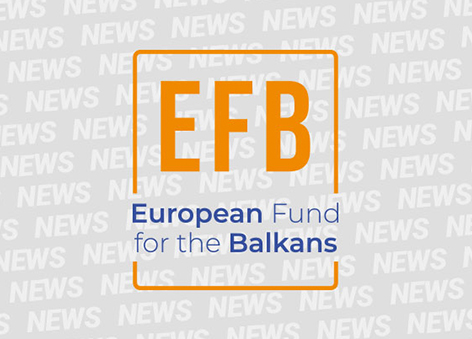 Program:
Introduction:
Igor Bandovic, European Fund for the Balkans
Presentation of the results:
Robert Manchin, Gallup Europe
Panel Discussion
Gordana Djurovic, Deputy Prime Minister Gouvernement of Montenegro
Stevo Muk, Institute of Alternative
Milos Basic, Center for Democracy and Human Rights
Zlatko Vujevic, Center for Monitoring
Nedjeljko Rudovic , Editor "Vijesti"

Moderator:
Momcilo Radulovic, European Movement in Montenegro
A panel discussion on GBM results "
Montenegro - Country of opportunities
"?was held in Podgorica on 23 March, 2009 in Press Center in cooperation with
European Movement in Montenegro
.
Participants of the panel were Ms Gordana Djurovic, Vice-president of Montenegrin Government for European integration, Mr Stevo Muk, from the Institute Alternative, Mr Zlatko Vujovic from Center for Monitoring, Mr Milos Besic from the Faculty of Political Sciences and an editor of a political column in a daily newspaper Vijesti, Mr Nedjeljko Rudovic.
Results and the methodology of
Gallup Balkan Monito
r on 23 March, 2009 in Press Center were presented by Gallup Director,
Robert Manchin
, who said that it would be possible that the citizens would now, several months after the survey was conducted, and due to the effect of global crisis, give different answers. He indicated that in September last year citizens of Montenegro were mostly optimistic in terms of level of trust in national state institutions, as well as in terms of accession to the European Union, which was supported by more than two thirds of interviewed people. They have expressed high level of trust in institutions, so even though they believe the church the most, more than half is satisfied with the performance of Government, courts, police, while half is approving performance of political parties.
It turned out as Mr Manchin said, that more than half of the citizens don't think using family relations or giving small gifts is corruption, which is the highest level of tolerance toward this social phenomenon in the region. The fact that more than half of the citizens are not satisfied with their own standard, but that two thirds are satisfied with their own lives and performance of the Government. Mr. Manchin explained by a thesis that Montenegrins think it is all right 'for the Government to do whatever it wants, as long as the citizens can do whatever they want'.

- This type of relationship toward an executive branch exists in some other countries as well – said Manchin.

Ms Djurovic, said that the survey is very affirmative and that it generally depicts optimism in Montenegro since proclamation of independence. "One of more important messages of this survey is that it is nice to live in Montenegro and that there is a European perspective. This survey is important for the representatives of the EU, since it is not good to show reservations toward 24 million of citizens of our region who have a high level of optimism toward the European integrations."- said Ms Djurovic and asked the present representatives of diplomacy to pass on the perception of the citizens to their governments and institutions in Brussels.

Mr Muk thinks that optimism of the citizens in Montenegro is partly an effect of renewal of independence, and partly a high level of tolerance toward inefficiency or less important level of performance of the Government in relation to fight against corruption. "An average citizen of Montenegro is a loser in transition process, he still hasn't defined his relationship toward the recent war past, he has given up moral values of a previous system and leaned towards consumers society, he is not interested to influence creation of the future of the country and his social engagement is brought down to, mostly, voting at elections" – said Mr Muk.

Mr Vujovic also stressed tolerance of the citizens toward the corruption, by pointing out how the survey showed that 53 % of the interviewed, which is the highest percent in the region, thinks that it is all right to give a doctor or a representative of the state or municipal authorities money or a small gift, as well to pull some strings to get a job done. He thinks that the results of a survey, especially since they can be compared with the attitudes of the citizens of neighboring countries, are very useful and recommends a public survey in the region to become a regular activity.

Mr Besic warned that it is inconvenient for the current position to have such an informative survey promoted six days before the elections, on which moderator of the panel Mr Momcilo Radulovic from the European Movement in Montenegro gave a comment explaining that the European Fund for the Balkans, scheduled for a presentation much earlier.
Rudovic wasn't clear how the citizens of Montenegro in majority can be satisfied when they need two salaries for a food basket and how the majority is trusting the Government, when at the same time 46 % claims it doesn't do enough to fight organized crime.
"I will interpret it by saying that the citizens of Montenegro don't need much to be satisfied and they don't have motivation for any activism. If they are satisfied by the performance of the Government, if half is ready to participate in corruptive activities, this means that the citizens of Montenegro are not ready to participate in creating their today or tomorrow, that is they are ready to jump into current happenings due to their daily or short-term benefit, even if they are convinced that it is not going in the wrong direction" – concluded Rudovic, pointing out that the citizens of Montenegro are not ready to point out to deviations of society.