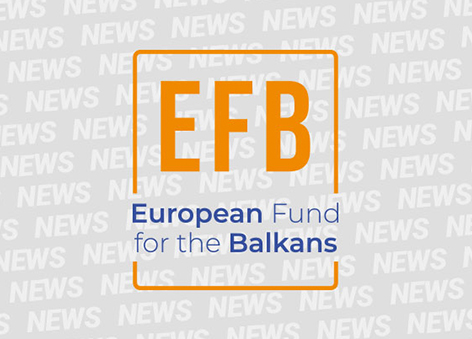 The European Fund for the Balkans (EFB) launches a new call for applications within its "THINK AND LINK" - Regional Policy Programme. The programme seeks to foster inclusive and evidence-based policy making in the Western Balkans by initiating research projects embedded in a regional capacity building and networking programme cycle. The programme is addressed to: emerging think-tanks, policy oriented NGOs, independent policy institutes and policy relevant research groups. Applicants must apply for participation in the programme cycle (capacity building and networking seminars, mentoring) and submit a research project proposal on a topic relevant from the perspective of the Copenhagen criteria. The EU membership criteria require that the candidate country must have achieved:
stability of institutions guaranteeing democracy, the rule of law, human rights and respect for and protection of minorities;
the existence of a functioning market economy as well as the capacity to cope with competitive pressure and market forces within the Union;
the ability to take on the obligations of membership including adherence to the aims of political, economic & monetary union.
This process of transformation can take place in the areas which are identified as research topics of the Programme and correspond to the acquis communautaire.
EXPECTED PROGRAMME OUTPUTS:
policy papers based on sound research;
public debate triggered by innovative, effective and efficient outreach activities;
capacity building and training component;
new co-operation and communication channels within the regional think-tank scene
HOW TO APPLY
Applicants must complete the following form in English only:
1. Application form
description of the applicant organisation
description of the research project
dissemination strategy
motivation for participation in the capacity building and networking programme cycle
project budget form
To apply, please send your completed application to policy@balkanfund.org. Subject line should include: the word "APPLICATION09". Applications will be accepted via email only. Applications which are not sent to policy@balkanfund.org will not be considered. Call for Applications Programme Description Application form
Programme Description
Think and Link Call for Applications 2009
Application form EFB Think and Link 2009.doc
Application form EFB Think and Link 2009.pdf
PROGRAMME HIGHLIGHTS AND KEY DATES
Application deadline: September 20, 2009. Final decisions communicated to applicants: by October 15, 2009. Think and Link Programme duration: November 2009 – October 2010 Capacity building seminar (I seminar): November, 2009. Research period: December 1, 2009 - July 31, 2010. Final papers to be submitted by: August 1, 2010. Final seminar (II Seminar): September 2010. Feel free to distribute this call.