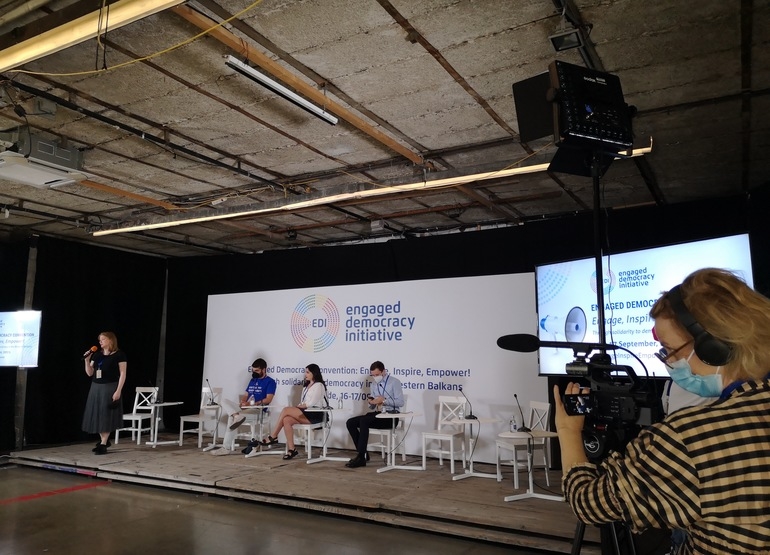 The first in-person regional meeting "Engaged Media: Exploring mutual communication nexus between media and engaged citizens'' in the frames of the Engaged Democracy Initiative will be held in Tirana on March 21-23, 2022.
After months of intense online exchange with engaged citizens from the Western Balkans and building the digital EngagedBalkans community, this meeting in Tirana will also be the first in-person regional gathering since our Engaged Democracy Convention, held in September 2021 in Belgrade.
This year, the activities in the frames of the Engaged Democracy Initiative will include a series of regional meetings on the following topics: Engaged Media; Environment; Decent Work; Public Space; and Corruption, Justice and Human Rights.
These regional thematic meetings are a direct outcome from the Engaged Democracy Initiative convention, as participants have said they need more time for their topic of action. Therefore, the meetings will not only reunite some of them, but will also include new relevant actors in the joint process of building regional strategies for solving the common problems of our societies.
The Media thematic group at the EDI Convention raised important issues regarding the ways in which journalists can support the activities and voices of engaged and vulnerable citizens, but also the ways in which local initiatives and movements can report on their activities and our common struggles, gain greater visibility, and inform and educate the public more effectively.
The next step forward in discussing and developing joint responses on similar issues and problems will be the second regional meeting "Green activism and eco protests: Changing the reality, challenging the usual political. Shaping common actions for the future" which will be held in Podgorica on April 6-8, 2022.