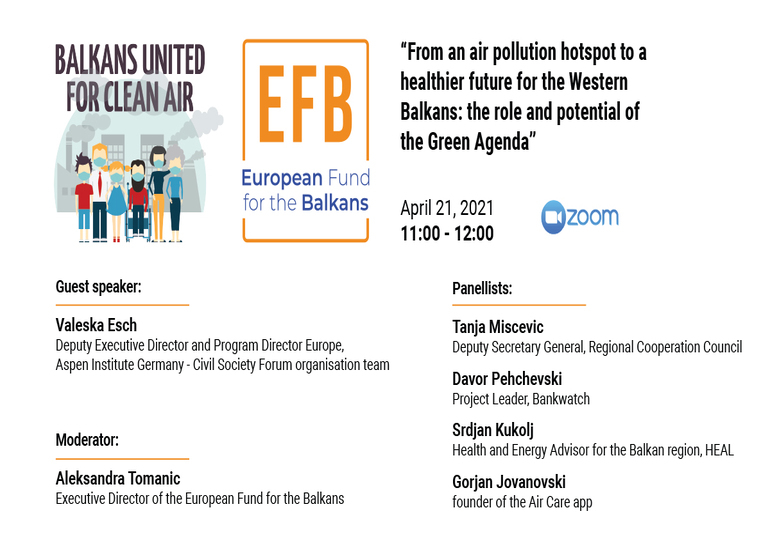 The European Fund for the Balkans is organizing the event "From an air pollution hotspot to a healthier future for the Western Balkans: the role and potential of the Green Agenda" on April 21, 2021 as a zoom meeting from 11:00 - 12:00.
The panel discussion is a follow-up of our joint regional campaign Balkans United For Clean Air and it will show future ways in achieving healthy and breathable air, by looking into the potentials of the Green Agenda for the Western Balkans that was recently endorsed by all leaders of the region.
Can this be a solution in tackling severe air pollution problems in the region? What is the role of and contribution of civil society? How can the Civil Society Forum within the Berlin Process endorse both, the Green Agenda and civil society?
Guest speaker:
Valeska Esch, Deputy Executive Director and Program Director Europe, Aspen Institute Germany - Civil Society Forum organisation team
Panellists:
Tanja Miscevic, Deputy Secretary General, Regional Cooperation Council
Davor Pehchevski, Project Leader, Bankwatch
Srdjan Kukolj, Health and Energy Advisor for the Balkan region, HEAL
Gorjan Jovanovski, founder of the Air Care app
Moderator:
Aleksandra Tomanic, Executive Director of the European Fund for the Balkans
Zoom Link: https://us02web.zoom.us/j/83329997239
(No registration is needed)