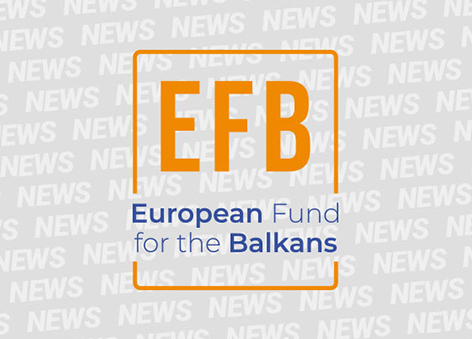 Panel Discussion "Tired of it all – BiH's citizens are desperate for change" was held on Friday, March 13, at the Association Alumni of the Center for Interdisciplinary Postgraduate Studies (ACIPS), as the fourth in the series of events which have been carried by European Fund for the Balkans in partnership with the Gallup Europe across Western Balkan countries in order to present and widely acknowledge the results of Gallup Balkan Monitor.
At the beginning of panel discussion,
Hedvig Morvai Horvat
, executive director of European Fund for the Balkans, presented the aims and the idea behind European Fund for the Balkans and the importance of the
Gallup Balkan Monitor
project.
Andrzej Pyrka
, research specialist at the
Gallup Europe
presented the country specific findings for Bosnia and Herzegovina, outlining the most interesting results.
Adnan Rodnic
, TV Hayat journalist, who was moderating the discussion introduced the panel consisting of prof
Zdravko Grebo
, Faculty of Law, University of Sarajevo,
Nedeljko Masleša
, assistant director, Directorate for European Integration, Bosnia and Herzegovina Council of Ministers,
Neven Andjelić
, University College London and
Zekerijah Smajić
, journalist.
Prof. Grebo started the discussion by questioning the reliability of the results. He said that researches can not rely on the sincerity of respondent's answers because people are not always honest when they are being questioned in public opinion surveys. Also, he stressed the importance of the voice of the people in accession efforts Bosnia and Herzegovina is undertaking.
According to Mr. Masleša, Bosnia's positions remain undefined and the domestic obstacles are slowing the accession process. Commenting on the survey results, Mr. Andjelic said that results are controversial because they reflect emotion. "The legacy of war is clear in the results and people in Bosnia and Herzegovina are disoriented".
Zekerijah Smajic argued that the greater role of media in this process is necessity. Media in BiH failed to transmit the message from Brussels to ordinary citizens. This information is manipulated by the local media which are inaccurate and sensational. The other problem is that EU outreach is also weak and it does not do much in order to inform citizens about what the EU is all about.

After the concluding words by the panelists, numerous questions arose from the public making the panel discussion fruitful and dynamic.