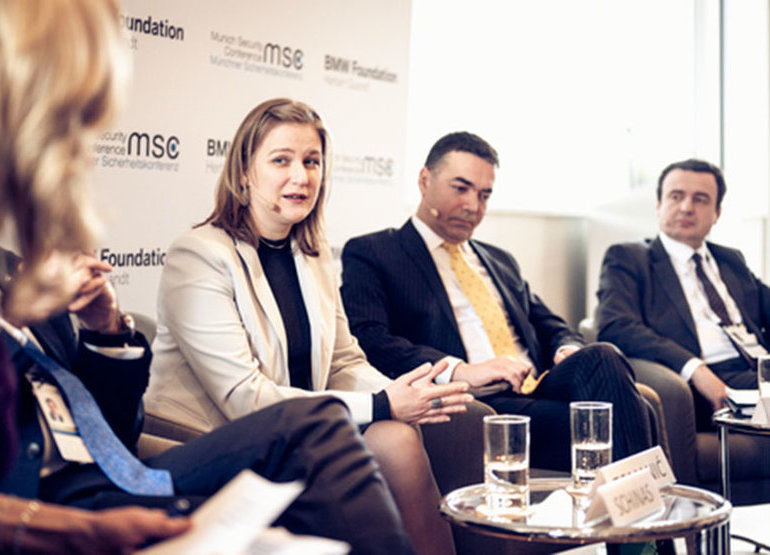 The Executive Director of the European Fund for the Balkans, Aleksandra Tomanic was one of the participants in the panel "Building Societal Resilience in the European Neighborhood" organized by the
BMW Foundation
at the
Munich Security Conference 2020
. The other panelist included
Albin Kurti,
Prime Minister of the Republic of Kosovo, Pristina
Margaritis Schinas
, Vice-President for Promoting our European Way of Life, European Commission, Brussels and
Nikola Dimitrov,
Minister of Foreign Affairs, Republic of North Macedonia. The event was organized as part of the
European dialogue process initiated by the BMW Foundation, whose core mission is the principle of responsible leadership.
In the past years, the EU has to a large extent concentrated on internal challenges and not directed enough attention to increasing the resilience of its surrounding states and societies. Moreover, it seemed divided in its policy towards those willing to reform in order to eventually become part of the Union as can be seen in the Western Balkans. An opportunity to create the stable and peaceful environment, necessary to strengthen Europe as a whole, might thus be missed.
How can the EU combine its forces for a joint policy to promote resilience in its neighborhood? What specific national approaches and which experiences can be transferred? How can a new balance between the legitimate interests of EU accession-candidates in the Western Balkans and reluctant EU-member states be reached? How, in particular, can new, non-profit sector actors be strengthened and enable citizens to voice their interests? were some of the questions that were put on the table for discussion.
The Fund's Director Ms. Tomanic pointed out that t
he state of play in the Balkans
is disturbing having in mind the poverty rates, air pollution, braindrain, lack of trust in the institutions. In that regard, she concluded that there is always room to strenghten the role of the civil society.
- At this point, as soon as you criticize something you get blacklisted. But, we should all raise our voice, because
the situation is becoming unbearable across the region. This is all emotional and it affects the concrete lives of many people
- said Ms.Tomanic. According to her, If EU wants to be a force of good, it has to recognize that progress is there: Western Balkans is entering a make-it or break-it phase. Political will is key, but missing on behalf of EU and the governments of the Western Balkans. The Minister of Foreign Affairs of Republic of North Macedonia, Dimitrov stated that the
EU should reframe the EU Enlargement
process into consolidation and completion. It should also consolidate its role in the region and serve as a force of good.
The Prime Minister of Kosovo, Albin Kurti shared his views that the E
uropean Union is a long marathon but one which the Western Balkans
must run. No shortcuts, no tricks but lots of hard work to the finish line. It requires democratic governance and democratic leaders but there has never been a better time to be an idealist.
20200214, MSC, Munich Security Conference, Hotel Bayerischer Hof: BMW Stiftung Herbert Quandt Building Societal Resilience in the European Neighbourhood Panel Discussion.
#MSC2020 #responsibleleadership #bmwfoundation