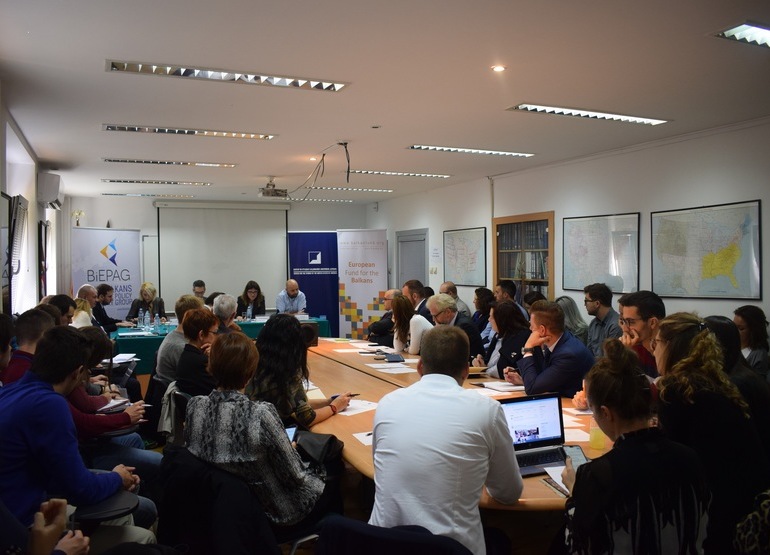 The demarcation between Serbia and Kosovo remains a controversial idea, with no consensus in either the West or the region. On the other hand, the role of the United States has increased significantly was the conclusion of the panel discussions "Belgrade, Pristina and the West – Accelerating History?" organized by the European Fund for the Balkans,
the Faculty of Political Science
and the
Balkans in Europe Policy Advisory Group (BiEPAG).
The discussion was moderated by
Nikola Burazer
, Executive Editor of the
European Western Balkans
portal, while the introductory speeches were delivered by Faculty Dean
Dragan Simić
and the Executive Director of the European Fund for the Balkans
Aleksandra Tomanić
.
Donika Emini
, Executive Director of CiviKos and a member of BiEPAG, said that a key problem for the political elite in Kosovo was lack of leadership over the dialogue process. "Prior to the idea of ​​demarcation, the Kosovo elite had been waiting for pressure from the US and other Western states," Emini said, adding that, on the other hand, the United States was the only actor engaged in Kosovo as the EU and Kosovo went through the process of elections in the last couple of months. She noted that US Special Representative Matthew Palmer is an excellent expert in the region and a good negotiator, and that the US is at the parties' disposal, although they are still trying to find their place in the normalization process. Emini cited the media as a problem for both sides, because of the negative reporting on any type of an agreement. In addition to the media issues, CiviKos Director noted that for the first time the opposition came to power in Kosovo in a democratic way despite the fact that not all votes have been counted yet. "We have a strange situation after the election. At four o'clock, we counted 90% of the vote, and we can't count the remaining 5% in two months. The current government is trying to repeat the vote easily", Emini concluded.
Ms.Dorothea Gieselmann
, Deputy Head of Mission Embassy of the Federal Republic of Germany to Serbia, said that Germany's position on Kosovo is known and unchanged. "We insist that Kosovo abolishes tariffs on the one hand and that Serbia suspends the campaign against Kosovo's independence," Gieselmann said. She noted that the demarcation, change of borders between the two peoples could lead nowhere, and that the agreement between Belgrade and Pristina should be comprehensive, meaning that it covers all issues of interest to citizens.
Edward Joseph
, Senior Fellow at Johns Hopkins University, pointed out that the demarcation will not solve the problems of Serbia and Kosovo, but will create new ones. "The authorities in Serbia say they will get territory, they will get something. But what will you give up? That's a positive zero", Joseph said, adding that Serbia and Kosovo should follow good examples of dispute resolution from the region, such as the Prespa Agreement between Greece and North Macedonia. Kosovo's recognition is perceived as a very damaging scenario for Serbian citizens, and the very word "recognition" is emotionally charged and is generally associated with the "betrayal of national interests". In the same time it provokes a sense of "betrayal and disappointment" and that is celar in the findings of the opinion poll conducted by the Center for Social Dialogue and Regional Initiatives - said
Nikola Jovic
, Teaching Assistant at Faculty of Political Science. According to the results, in a potential referendum on a deal with Pristina, of the seven scenarios offered, none would be accepted by the majority population, but still the scenario which gained most support is the one that project an agreement in which Serbia recognizes Kosovo in exchange for four municipalities in the north, the Community of Serb Municipalities in the south and the extraterritoriality of the Serbian Orthodox Church monasteries. Nikola Jović said that most opposition supporters believe President Vučić will recognize Kosovo for joining the EU, while government supporters think he will not do so and will not make any concessions to Albanians. (Text by:
European Western Balkans
) Additional info in Serbian:
http://www.fpn.bg.ac.rs/30411