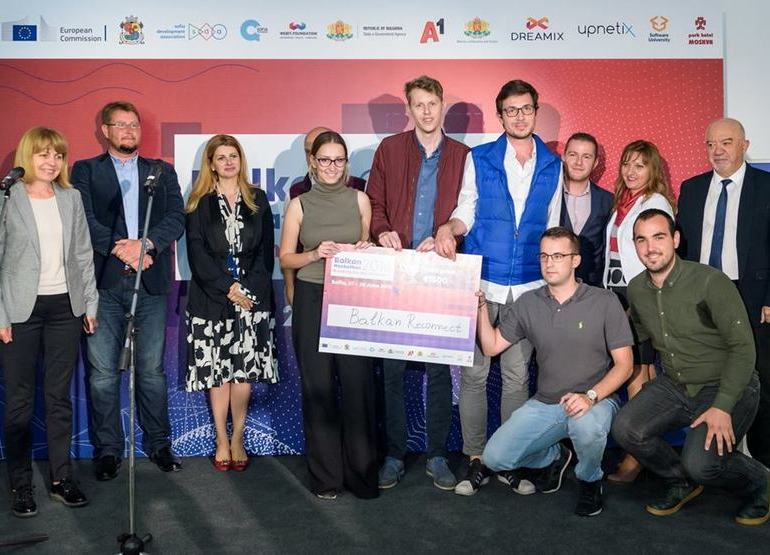 The winning team from Serbia at the European Fund for the Balkans regional hackathon tour
#
BalkanConnect2018
(
http://hackathons.balkanfund.org/
) continued its success story by winning the third place in the Balkan Hackathon Challenge 2018 which was organised on June 27 and 28 in Sofia Tech Park by the Representation of the European Commission in Bulgaria, Sofia Municipality (Sofia Development Association), Sofia Tech Park, the State e-Government Agency of the Republic of Bulgaria, and Webit Foundation. As part of the community of Balkan innovators interested in information technologies, programming, design, multimedia and marketing, the Balkan Reconnect team was supported by the European Fund for the Balkans to join their peers in Sofia to create new technological solutions to the challenges and opportunities facing Europe. Тhe main challenge at the Balkan Hackathon was the digital divide in all its forms. Ten years ago, the digital divide was about the barriers to getting everyone online. Today, it is no longer only an issue of access to connectivity. The digital divide of the future will include security and the ability to leverage the internet for a broad range of economic opportunities. As new threat vectors emerge, a security divide will arise between those with the knowledge and resources to protect themselves from cyber threats and those without. The Balkan Hackathon welcomed all who are ready to explore and prototype the solutions that will guarantee the inclusion of all citizens in the digital era, regardless of their income, social situation, geographic location, health, or age. Some of the challenges tackled by hackers will include: how to make public e-services more appealing, user-friendly and trustworthy? How to guarantee the inclusion, contribution and leadership of women and girls in ICT? How to provide quality and affordable digital training to create and add value?
Developers, designers, startup companies, students, and other ICT professionals - anyone with the technical skills, vision for the future, creative ideas and the courage to stand up for them were invited to participate. The event required an intensive cooperation and team work to develop new and innovative solutions within an extremely limited time frame. Besides the heavy competition, the Balkan Reconnect Team managed to win the 3rd place and the award of 1500 eu.
The event was part of the European Digital and Innovation Week, which started off with the European Digital Assembly under the leadership of Commissioner Mariya Gabriel. To find out more visit
balkanhackathon.eu
.