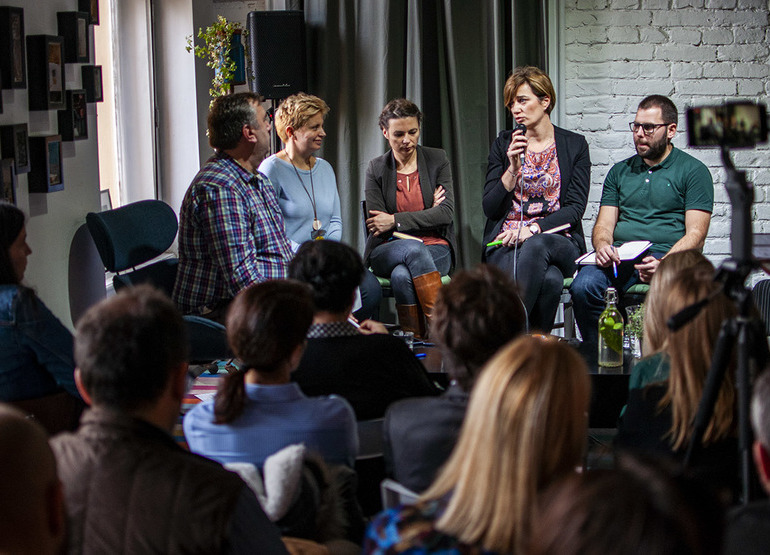 A panel discussion Debate on the rule (out) of law was organized in Belgrade on November 19 in Belgrade in organization of CRTA (Serbia) and Politikon (Montenegro). The event was realized in the frames of the project Rule of Law in the Western Balkans: Reinventing the Rules of the Game implemented by Politikon Network (Montenegro) in cooperation with CRTA from Serbia and Tim Institute from North Macedonia. The project is financially supported by the European Fund for the Balkans and its Think and Link Regional Policy Programme.
The participants in the discussion Vukosava Crnjanski (Director of CRTA), Jovana Marovic (Executive Director, Politikon Network), Gazela Pudar Drasko (Research Fellow at the Institute of Philosophy and Social Theory), and Ivan Stefanovski (Expert on Elections) agreed that the citizens are expecting from the European Union to solve all the problems of the countries where they live because they are not aware of their rights. In fact, the solution lies in bringing together the citizens who will use their powers to fight for the democratic values. "Only through a joint dialogue that will help us define the desires and direction in which we want to move forward, we can provide a respect for the rule of law principles according to which the citizens' rights will be proteced and the laws enforced" , was the conclustion of the panel discussion.
As part of the series of public events, two additional policy discussions were organized both in Podgorica( What should we do about the rule of law in the Western Balkans in 2020?) and in Skopje. During the event in Podgorica, commenting on the French proposal in regards to Serbia and Montenegro, the executive director of the Politikon Network Jovana Marović said that it was completely unrealistic to expect that there will be two different methodologies for different candidate countries. "If the new methodology is adopted, it will be applied to all the Western Balkan countries", stressed Marović.
She also pointed out that the rule of law has been stagnant for many years in the Western Balkans", adding that the framework of negotiations with the EU in Serbia and Montenegro, and integrations in other countries have not helped restart the rule of law in the region so far. "We need to think about how to advance the rule of law, what is a satisfactory framework and what we can all do in that direction", said Marović. More info on the events is available at the following links: https://politikon.me/2019/11/14/what-should-we-do-about-the-rule-of-law-in-the-western-balkans-in-2020/ https://crta.rs/dijalogom-kreirati-vladavinu-prava/