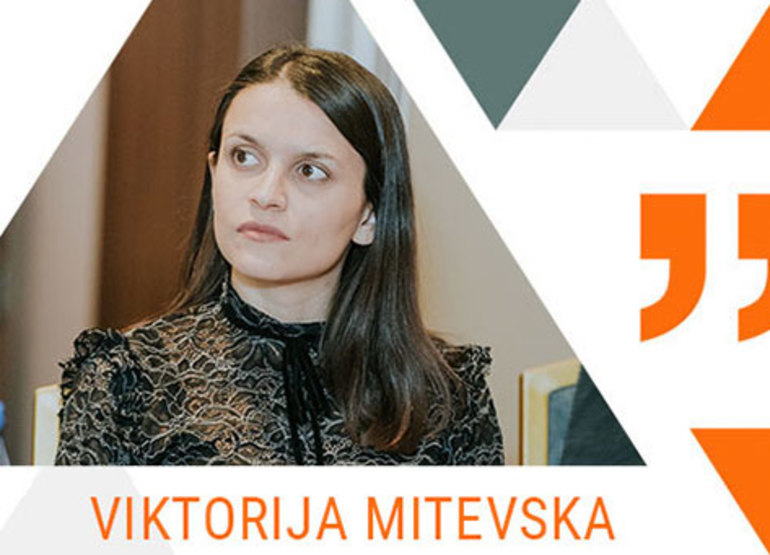 Viktorija Mitevska - Fellowship Programme for Government Officials from the Western Balkans 2017/2018
EFB Fellow and Junior Associate at the Ministry of Finance of Republic of Macedonia
Being part of this wonderful experience called EFB was once in a lifetime opportunity and the best thing that has happened to me. I have spent eleven weeks in the Ministry of Economy and Finance of the Republic of Italy at the Department of the Treasury - Directorate for international financial relations where I had a chance to work with my Italian colleagues, and learn about their practices and policies. I had a host mentor, Signora Francesca Mercusa, who, together with her staff, gave me an opportunity to experience a life of Italian public servant. It was three months full of activities, adventures, seminars, friendship, learning, getting to know many new people and sharing experiences.
From the first day I faced frequent delays in public transport and crowds, which were actually characteristic for the whole city that was crowded with tourists, but I quickly gotused to it.
Regarding my first working day, I can say that it exceeded all my expectations. Although I was expecting only professional approach, I also received a warm welcome and realized that in this institution, besides knowledge, I will make good friends. My first impressions were that I would work in a pleasant environment with colleagues who would support me,
be friendly, very kind and organized. In fact, the entire administration was well organized and coordinated, which made it really easy for me to fit in and get familiar with the rules of procedures.
Living with a roommate from Serbia, meeting people from different countries and working in the Italian public administration has helped me to better understand different cultures and their values, as well as to improve my language skills. I especially enjoyed the moment when I spoke Italian with foreigners, tourists, feeling like I was in my home country, being a genuine Italian.
I must admit that I did not expect my colleagues in the host institution to know so much about my country, although a few have visited Macedonia. It turned out that almost everyone had excellent knowledge of our culture, current events and happenings in my country, to my personal satisfaction.
I was performing my tasks in English and to some extent in Italian language, and I can say that I fit in perfectly in the process. Something that I really enjoyed about their administration is their flexible working hours, their organizational culture and way of planning and realization of the activities. Organizational culture is partly formal and partly informal, in a way that there are defined procedural rules but also there is informality in a way how the tasks are performed and in the sectoral coordination and planning. For me, it was interesting to see the distribution of competencies between different institutions and the way this is done, a real difference compared to my country. Very often a lot of institutions are involved in a particular subject, not only one, and the cross sectoral approach is applied, since many of the issues are relevant for many policy fields. I was following the new happenings and changes daily and gained new habits, through discussions and friendship with colleagues. My work was really interesting, given that I learned many new things through everyday activities, meetings and events that were organized. One part of the day was always devoted to discussions on current events related to the EU and the Balkans, but also on geopolitics.
We also used to exchange experiences about the culture, food, history of our countries, encouraged by an invitation to learn Balkan folk dances that one of the colleagues sent to the other colleagues. In fact, the colleagues were those who made my stay beautiful and pleasant, always positive, with a smile, ready to support me in everything.
The other aspect I enjoyed was the beauty of the city, captivating by numerous historical monuments, beautiful squares, hidden alleyways, incredible panoramas, tasty pasta and ice cream, stylish people, the fastest way of drinking coffee and far too many scooters. An interesting new thing I learned was the role and function of the Pope, as something that is characteristic for the host country but not for my country and the countries of the region.
In addition to my work in the Italian administration, fellows had two seminars, one at the beginning of the Fellowship and other at the very end. There were a series of theoretical and practical trainings, workshops and team-building challengess that helped me to increase my confidence, intercultural competencies, and that made me to go out from my comfort zone, as our trainer Ljiljana Simic said, in the zone where magic happens.
In the future, I will try to transfer the knowledge and experience I have gained to my colleagues at the home institution and I have to plan my future activities and be proactive to make a difference in the processes which will bring the region closer to the EU. This was a unique and incredible opportunity for me, an amazing experience that I will definitely remember forever! Thank you, European Fund for the Balkans, for giving me such a life-changing opportunity!
*The author's views presented in this blog do not necessarily reflect the position of the European Fund for the Balkans.